Introduction
The Polymesh Portal is an interface for interacting with an account on the Polymesh Blockchain. It showcases some of the rich features available on Polymesh and is meticulously crafted with a responsive design that seamlessly adapts to different devices, including mobile phones and tablets.
On the Portfolio Page, you can easily add, remove, or rename portfolios, move funds between portfolios, and explore portfolio-specific asset transfer history. The Portfolio Page gives you full control over your asset allocation and portfolio composition.
Furthermore, it empowers you to efficiently manage your assets and customize portfolios according to your preferences. You can view an overview of all assets held under your selected identity, including the total balance and locked tokens across portfolios, or access individual portfolios.
The Portfolio Page
Portfolio Card
You can switch between portfolios by clicking on each portfolio's tab. It also shows you the asset allocation within a portfolio.
You add a new portfolio by clicking on the +Add Portfolio button:

Moving assets between portfolios
You can move assets between portfolios with a couple of easy steps:
On the source portfolio's card, click on Move
A popup window will appear, fill in the details below:

Select the destination portfolio from the dropdown list
Select the asset from the dropdown list
Enter the amount you would like to move
You can enter a memo if you like, this is optional and will be public
You can add more assets to move by clicking on the +Add Asset button

Once all data are filled, click on Apply and sign the transaction with your wallet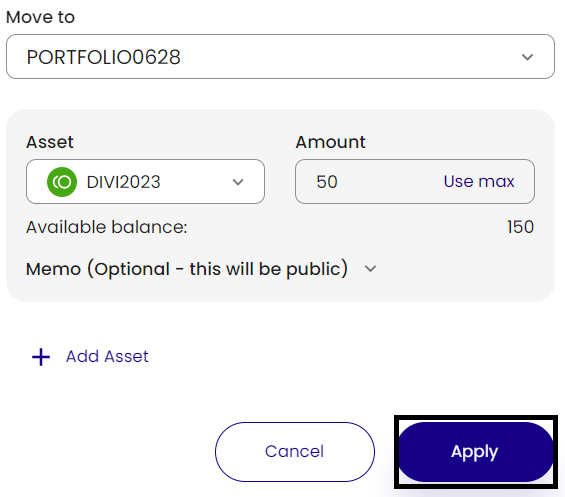 Renaming a portfolio
You can easily rename any of your portfolios by clicking on the Rename button on the Portfolio card.
Note that the portfolio named "Default" is the default portfolio of every user and cannot be renamed.

Assets Card
The Assets card shows further details of your portfolios. You can browse the following views:
The Tokens view shows the allocated tokens and their balance, including total and locked ones;
The Transactions view shows the transaction history;
The Movements view shows a history of asset movements within your account.