Issue details
While browsing through the Polymesh Portal you might encounter anomalies (error message popups, page continuously load etc.).
Possible solutions
There are some factors that prevent pages from loading on the Polymesh Portal:
You might have refused authorization previously to connect to your wallet. You can check by clicking on the three dots at the top right of your wallet, then clicking on the "Manage connected dApps" menu. Please check if you have enabled permission for all related domains.
Read more on this support article.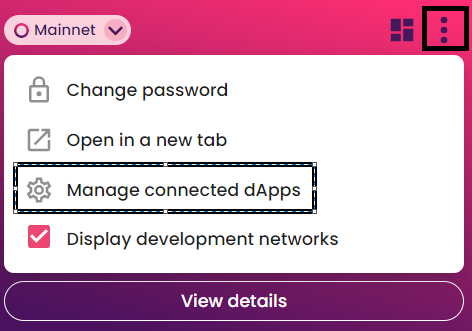 An ad blocker or other extension (wallet, security extension, Google Translate etc.) prevents the page from loading. Please disable them and refresh the page.

If the Polymesh Mainnet App is opened in another tab in your browser, it can cause conflict with the portal. Please close it and reload the portal.
It is always a best practice to clear the cache (guide for Chrome here) then reopen your browser or restart your browser or PC entirely.
In case you are using any VPN service you may want to disable it or bypass https://portal.polymesh.network/ from the VPN tunnel.

To rule out any browser-related issues, it is worth trying to open the portal in a different browser. All Chromium-based browsers (Chrome, Opera, Brave, Edge, Vivaldi etc.) should be supported.
If this still doesn't work, please open a support ticket on the Polymesh Community page with the following data:
A screenshot of the error message.

The URL of the page where you see issues.

A screenshot or text file of the Console log output from Developer tools from your browser. If you right click on the page and click on "Inspect" this brings up the Developer Tools, then click on the Console tab to see if there are any errors.